Biography
Hello, I am Wen Chen, a visual communicator based in London. I believe in design as a practice to communicate and collaborate. I have just graduated from BA Graphic and Media Design at London College of Communication, University of the Arts London. I continuously explore my passion in digital design, especially generative art and interactive design. I am also keen on building narratives in various forms to deliver abstract ideas visually, such as editorial and book arts.
Portfolio
Digital Clone Installation
Digital Clone is an audio-activated installation as an intervention for the speculative scenario in the year 2036. We will be living a life full of the Internet of Things (IoT), Digital Twin infrastructures, and 5G connection, which will become intimately integrated into our daily life via the internet.
This project aims to provoke the awareness of digital privacy through our daily devices, which have been always listening to our day-to-day conversation to pick up useful keywords for ads dataset, for example, Google and Facebook.
We are, at the same time, being updated to the 'Digital Clone' which tries to portray and approximate who we are in the form of digits, as if we are cloning different selves when using, interacting, or talking to personal devices.
The Ambiguity Newspaper
The Ambiguity Newspaper is an AI-generated newspaper that embraces the objectivity and subjectivity against the topic of the political status of Taiwan. The newspaper consists of 2 machine learning models to generate the ambiguous portraits and irrelevant text story. By integrating P5.js, a web-based medium, the project welcomes users to input their perspectives and receive an absurd and rational composition newspaper.
The political status of Taiwan is a complex and ambiguous topic in East Asia and beyond. The newspaper aims to deliver the context by combining user-input prompts and background knowledge. Users can generate an ambiguous portrait fitting the generated story that comes from their inserted perspective.
With 12 pages, each page has its own topic with provided background knowledge from Wikipedia. I asked 11 people with different nationalities and identities to interact with the assigned page and send it back to me. The final result of the printed copy is a collective perspective from both human and machine.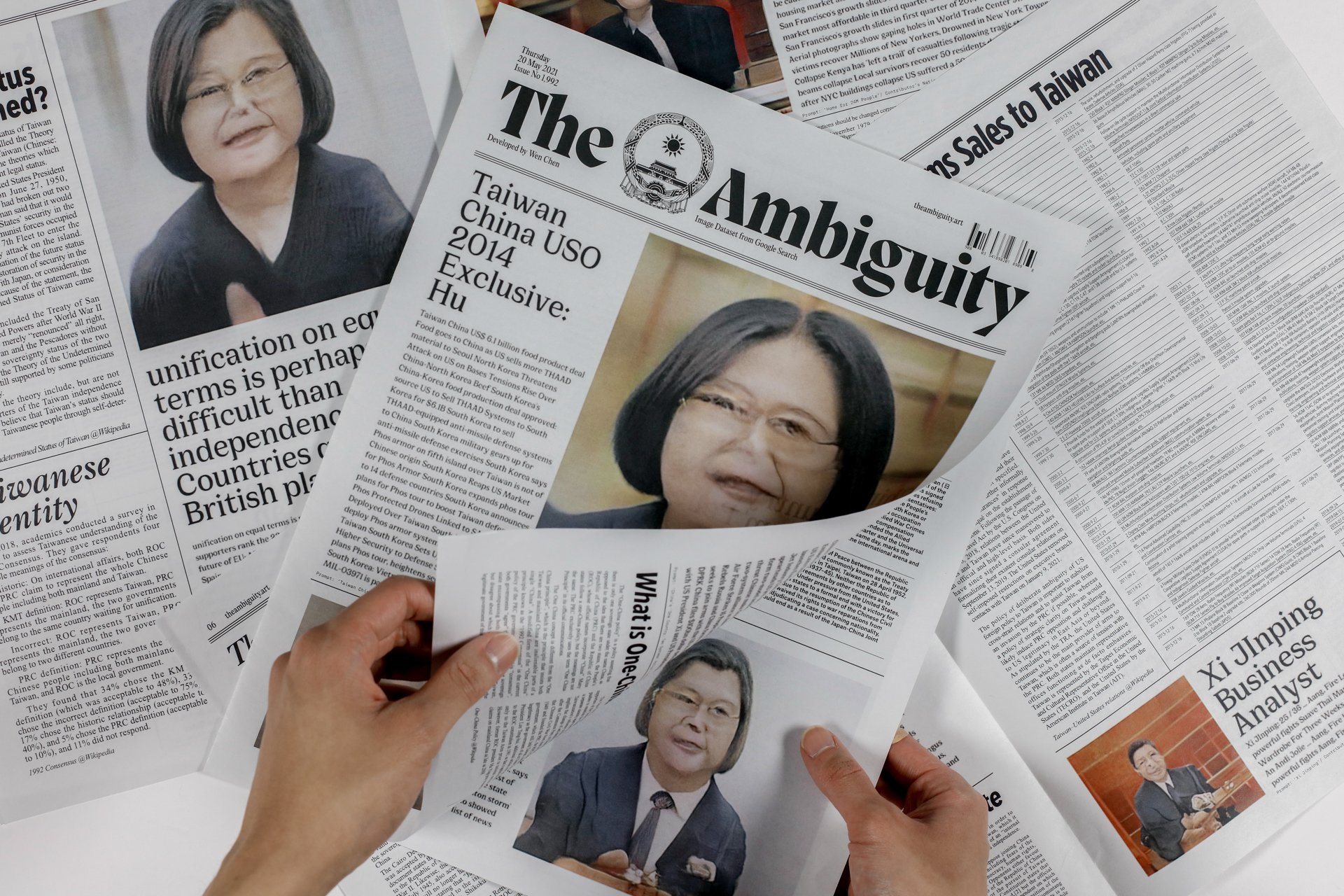 Indoor Copenhagen Artists' Book
Indoor Copenhagen is an Artists' Book project that explores the tangible memory in visual forms to document the experience in Copenhagen during the pandemic. It is a self-initiated project started during the Erasmus exchange programme at Royal Danish Academy (KADK) in Copenhagen, Denmark, in Spring 2020. I finalised the design and produced it at my home university, London College of Communication (LCC, UAL) in London, UK, in Spring 2021. During the production, I had immense support from the Print Finishing Workshop at LCC to experiment with a wide variety of printing techniques, such as Lithography, Risography, Thermography, Duplex and many more.
The content consists of 4 elements for the book which are portraiture photographs, sketches, the text of the stories, and a map of Copenhagen, which are highly relevant to my experience in Copenhagen. The portrait is about people in their 'hygge' mood at home. The sketch is an alternative way of describing space, learnt from KADK's workshop. The written story is meant to create a conversation between participants and myself, in various languages. The map is to summarise the experience visually and structurally to tell the story in data.
This is a personal project that aims to deliver a better scenario for those who want to know the stories. With different elements, the stories can be read in various ways and interpreted in your way based on your personal experience. I hope the book can resonate with the feeling of the good old days in every reader's heart.